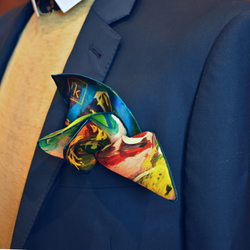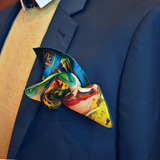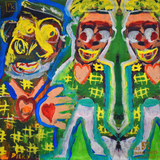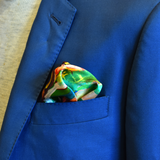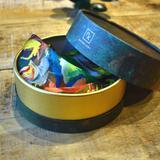 Silk Pocket Square | Art by PO
Wear a unique Silk Pocket Square with a printed artwork signed by the Artist Pierre Ostiguy. 
Combining art and story of a unique mental health journey, this original silk square will become the ideal accessory for your bespoke suits.
100% Mulberry Silk

Dimensions: L 30 x 30 cm
Made in Quebec, Canada
Sent with the certificate of authenticity in an elegant gift box
Each piece of this silk collection tells the story of an artist with a unique journey and contributes to the cause of mental health by donating 10% of the profits to the non profit organization Les Impatients.
Pierre Ostiguy developed his style through a combination of teaching himself to paint and attending classes after graduating from the Cégep of Granby Haute-Yamaska in 1971.
"Art was his refuge," his psychologist Sandra Villeneuve says, "his only pleasure. Art gave him a social status. A role more brilliant than that of a sick person. It was his hope for the future, his engine to continue."
Pierre's art reflects his mental states and the turbulence he lived through in his life. Sadly, growing illness forced him to withdraw from the artistic community. Between 2007 and 2009, Pierre stayed in contact with Les Impatients while in isolation, writing over 400 letters to the organization.
He passed away in September 2009 of lung disease. After his death, his works were incorporated into Les Impatients' collection by Dr. André Delorme. The gallery of Les Impatients and Boréart, Granby, organized a posthumous exhibition of his artwork in 2011.
To find more about the non-profit organization Les Impatients who support the artists through therapeutic art programs, visit the 
website here.
ART OF POCKET SQUARE
Based in Montréal, Québec, Nathon Kong handmade Pocket Square with Mulberry silk, the finest quality of silk available in the world.
The Pocket Square is printed with a limited and numbered reproduction of an artwork signed by artists struggling with mental health issues and participating in art programs led by the non profit organisation Les Impatients. 
You will receive your numbered piece in an elegant and exclusive gift box with a certificate of authenticity and the story of the artist.
CARE OF YOUR SILK POCKET SQUARE
Preserve the beauty of your silk by storing it flat and untied.
Avoid contact with rain, water and other chemicals, and entrust it to a professional dry cleaner when needed.
Shipping Policy:
Order sent in maximum 2 days with a delivery under 8 days for Canada & USA
Every art piece, are sent in an elegant gift box with tracking number. Inside you will find the certificate of authenticity of your art piece.
For more informations about our Shipping Policy please consult our FAQ.
Returns:
For any return, we have to be notified within the 30 days of the purchasing date at art@nathonkong.com. Will get in touch with you within 24-48 hours after reviewing the request and we'll inform you the best way to return it.
For more informations about our Return Policy please consult our FAQ.
Payment Methods:
Credit Card
Paypal
Apple Pay
Google Pay