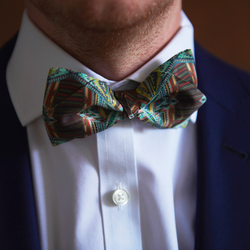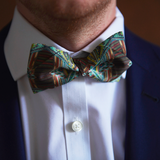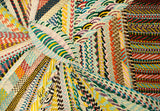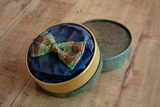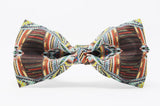 Silk Bow Tie | Art by BM2
Mulberry Silk Bow Tie printed with the art signed by artist Bill Market. Inspired by landscapes of Western Canada, its contrasting colors form a geometric beauty magnified by the shine of mulberry silk.
This limited and numbered edition tells the story of its artist.
100% Mulberry Silk

Dimensions: L 80 x l 6 cm
Made in Quebec, Canada
Sent with the certificate of authenticity in an elegant gift box
Each piece of this silk collection tells the story of an artist with a unique journey and contributes to the cause of mental health by donating 10% of the profits to the non profit organization Les Impatients.
 Artwork available also on Silk Face Mask & Pocket Square
William (Bill) Market was born in Montreal into an anglophone family in 1949. He spent more than 40 years of his life in a mental institution, only to get out at the age of 65. He has been participating at the workshops of the association Les Impatients since 2002, where he devotes his time to a wide range of art, including beautiful musical creations. His inspiration centers mainly around two themes; depictions of weavings and landscapes.
The first comprises beautiful quilts on paper that Bill invented himself with the help of a mysterious equation, of which he is the sole proprietor. He starts these pieces by tracing a complex system of lines with a lead pencil, carefully counting each line, followed by him filling in the gaps with pastel colored markers or crayons to create psychedelic and geometric gems.
Market's landscape art works in a similar fashion. With precise borders first drawn in lead, he then fills in once again shapes with different colors. The contrasting colors lend a geometric beauty to nature. For a man who spent a large part of his life in an institution, the lush landscapes are a reminder of a beautiful vacation in Western Canada, which represents freedom.
To find more about the non-profit organization Les Impatients who support the artists through therapeutic art programs, visit the website here.
ART OF BOW TIE
Based in Montréal, Québec, Nathon Kong handmade Bow Tie with Mulberry silk, the finest quality of silk available in the world.
The Bow Tie is printed with a limited and numbered reproduction of an artwork signed by artists struggling with mental health issues and participating in art programs led by the non profit organisation Les Impatients. 
You will receive your numbered piece in an elegant and exclusive gift box with a certificate of authenticity and the story of the artist.
CARE OF YOUR SILK BOW TIE
Preserve the beauty of your silk by storing it the gift box.
Avoid contact with rain, water and other chemicals, and entrust it to a professional dry cleaner when needed.
Shipping Policy:
Free shipping in Canada & USA with orders over $75.
Free shipping in Europe with orders over $100
Order sent in maximum 2 days with a delivery under 8 days for Canada & USA
Every art piece, are sent in an elegant gift box with tracking number. Inside you will find the certificate of authenticity of your art piece.
For more informations about our Shipping Policy please consult our FAQ.
Returns:
For any return, we have to be notified within the 30 days of the purchasing date at art@nathonkong.com. Will get in touch with you within 24-48 hours after reviewing the request and we'll inform you the best way to return it.
For more informations about our Return Policy please consult our FAQ.
Payment Methods:
Credit Card
Paypal
Apple Pay
Google Pay