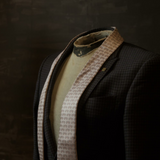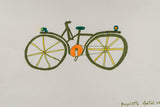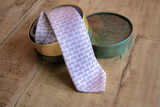 Silk Necktie | Art by MLB
Original Mulberry Silk Tie with unique artwork signed by Artist Martial Le Bras. Numbered limited edition representing a green bike on a beige background magnified by the shine of mulberry silk.
An elegant and timeless Necktie that makes it wardrobe classic.
100% Mulberry Silk

Dimensions: L 146 x l 8 cm
Made in Quebec, Canada
Sent with the certificate of authenticity in an elegant gift box
Each piece of this silk collection tells the story of an artist with a unique journey and contributes to the cause of mental health by donating 10% of the profits to the non profit organization Les Impatients.
Martial Le-Bras was born in Rennes, France, in 1954. He was only eight when his parents converted him and his nine brothers and sisters to mormonism. Then at eighteen, he went to the cinema with his twin brother, Didier, to see the famous Cecil B. DeMille film, The Ten Commandments.
This experience had a profound and lasting effect on Martial. He then moved to Canada at the age of 22 where he worked a variety of jobs including as a cargo handler in a warehouse and many different positions in restaurants. He joined Les Impatients in Pointe-aux-Trembles in 1992 where he began his collection of over seventy large watercolour paintings depicting scenes of the Old Testament.
Les Impatients devoted an entire exhibit to his exhaustive work in 2006. His colorful style could be admired but what stood out most was his spontaneous and personal interpretation of the life of Moses.
To find more about the non-profit organization Les Impatients who support the artists through therapeutic art programs, visit the website here.
ART OF TIE
Based in Montréal, Québec, Nathon Kong handmade Tie with Mulberry silk, the finest quality of silk available in the world.
The Tie is printed with a limited and numbered reproduction of an artwork signed by artists struggling with mental health issues and participating in art programs led by the non profit organisation Les Impatients. 
You will receive your numbered piece in an elegant and exclusive gift box with a certificate of authenticity and the story of the artist.
CARE OF YOUR SILK TIE
Preserve the beauty of your silk by storing it the gift box.
Avoid contact with rain, water and other chemicals, and entrust it to a professional dry cleaner when needed.
Shipping Policy:
Free shipping in Canada & USA with orders over $75.
Free shipping in Europe with orders over $100
Order sent in maximum 2 days with a delivery under 8 days for Canada & USA
Every art piece, are sent in an elegant gift box with tracking number. Inside you will find the certificate of authenticity of your art piece.
For more informations about our Shipping Policy please consult our FAQ.
Returns:
For any return, we have to be notified within the 30 days of the purchasing date at art@nathonkong.com. Will get in touch with you within 24-48 hours after reviewing the request and we'll inform you the best way to return it.
For more informations about our Return Policy please consult our FAQ.
Payment Methods:
Credit Card
Paypal
Apple Pay
Google Pay